Peninsula-FSBO Saves You Time And Money
---
The Internet has revolutionized the real estate business and the way buyers connect with sellers. Real Estate professionals know this and have effectively used this technology to their market advantage for over a decade. Now you can have that same marketing advantage by advertising on the Internet like the professionals. We help expose your property to potential buyers worldwide. Advertise your property on Peninsula-FSBO and you can reach the hundreds <![if !vml]>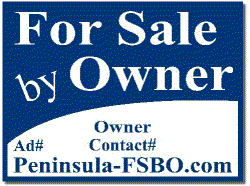 <![endif]>if not thousands of buyers searching for real estate on the Olympic Peninsula right now. There's no substitute for a competent Realtor, but if you want to sell your own property get every advantage you can to let buyers know about your property by using Peninsula-FSBO. If you've checked the high cost of classified advertising you know just how very expensive it is for the limited local exposure you get. Peninsula-FSBO will give you more than eight times the advertising space for a fraction of the cost of a single month of classified space. In addition to the custom color Internet ad you get a Peninsula-FSBO "For Sale By Owner" or our "For Rent Or Lease" sign. Both the signs include the Ad # for your properties web page. Prospects who see your sign can use the Ad # search feature at Peninsula-FSBO to find your web page, get detailed information about your property 24/7 and contact you through your authorized methods. There is even a space on the sign so you can add your phone number or Email address if you'd like to be contacted that way. Use Peninsula-FSBO and get the most value for your advertising dollar.
Let Peninsula-FSBO work the web for you.
"Peninsula-FSBO is not a licensed brokerage in the State of Washington. We do not offer any real estate advice or provide any Brokerage services."
---
<![if !supportEmptyParas]> <![endif]>
[Homes] [land] [Commercial] [Rentals]
[Peninsula-FSBO] [What We Do For You] [Our Fees $] [Ordering] [Contact Us]
[Real Estate Help] [Peninsula Market History] [Resource Directory] [Search Ad#]
<![if !supportEmptyParas]> <![endif]>
Copyright © 2010 Peninsula-FSBO POB 256, Port Angeles, WA 98362 All Rights Reserved